Authorization Interface - Retrieve Information from Yahoo! Order Pages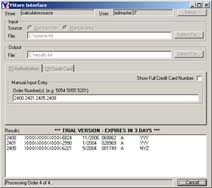 Authorization Interface is a YStore Inteface module that provides simple, secure, automated access to authorization information, including AVS Results, Credit Card Numbers, and IP Addresses. Ideal for those who receive their Yahoo! Store orders through email and are working on automating their order processing and for those concerned with giving their order processing employees access to sensitive credit card information. Also perfect for customers who download their orders, but desire to access order IP information for automated fraud detection.

Features:
Provides automated access to Authorization details of your Yahoo! Store orders:

Credit Card Number
Credit Card Expiration Date
Approval Number
Authorization Code
AVS Result
CVV Result
Customer IP Address

For PayPal Yahoo! Store orders provides automated access to:

Verified/Unverified
Confirmed/Unconfirmed
Customer IP Address

The same interface is used for Credit Card and PayPal orders.
Eliminates the need to purchase, install, and configure PGP software to access this information in real-time e-mail based order processing systems.
Provides access to IP information for non-email or fax based order processing systems.
Allows you to securely select whether to display full credit card numbers or only the last 4 digits to prevent employee access to customers' credit information and eliminate the security risk of storing credit information on your computer.
Allows your staff to authorize orders without gaining access to the Store Manager.
Related Products:
Guaranteed Chargeback Protection Worldwide! No AVS Required, Transparent, Automatic!
Tired of Unreliable Email Forwarding and DNS? Switch to easyDNS and forget about lost emails and frequent website outages. They are widely recognized as one of the best in the business!
Recover from Lost Broadband Connections automatically using this innovative hardware and sofware solution. Perfect answer to unreliable cable modems, DSL modems, and wireless routers!
Automatic IP Location Lookup in your online and offline applications is easy with these accurate, comprehensive databases and lookup services. Find country, state, city, ISP, longitude, latitude, flag, and domain.